Season 42 Individual Tickets and Flex Passes Now On Sale!
Flex Passes Available In Limited Supply Until September 15!
What is a Flex Pass and how do you redeem it?
Flex passes are an easy way to purchase a group of tickets AND save some money in the process!
Flex Passes are available in 5, 10 and 20 ticket increments.
With a Flex Pass, YOU get to choose when and how you use your tickets!
For example, if you purchase a Flex Pass for ten tickets, you could redeem your Flex Pass for two tickets for each performance in our season, use all ten tickets on one performance, or mix and match throughout the season as you see fit!
When you purchase a Flex Pass, you will receive a special code.  That code is unique to YOUR Flex Pass.  Whenver you go to purchase your tickets online, just simply enter your Flex Pass code when prompted and follow the instructions from there!  You may also redeem your Flex Pass tickets in-person at The Stage Company Box Office prior to any performance.  Just simply tell our box office associate your Flex Pass code and that's all it takes!
Flex Passes are only available in a limited quantity, so get yours today!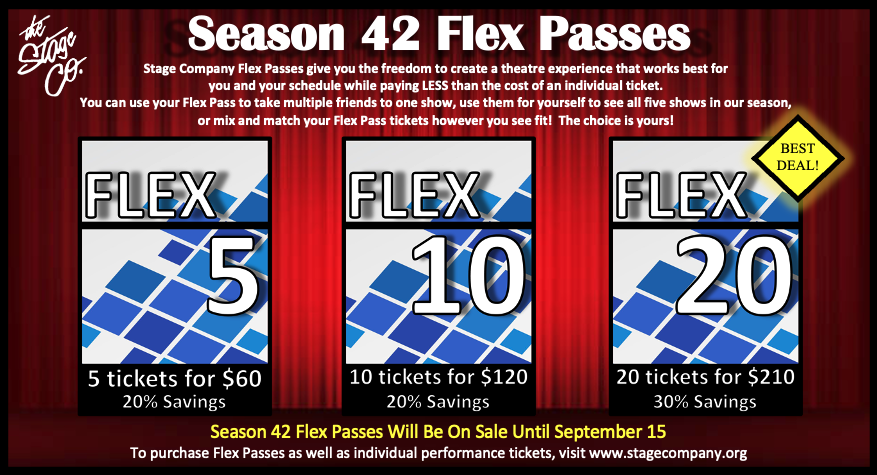 Click this button to purchase tickets online!
If you would like to purchase tickets in person, our Box Office is always open an hour and a half prior to the start of each performance.
Thursday – Saturday performances begin at 7:30 p.m. with our Box Office opening at 6:00 p.m.
Sunday performances begin at 2:00 p.m. with our Box Office opening at 12:30 p.m.
If you have additional questions about how to purchase tickets, please email boxoffice@stagecompany.org